Sustainable and Inclusive Growth Commission
Building a better future together post-Covid.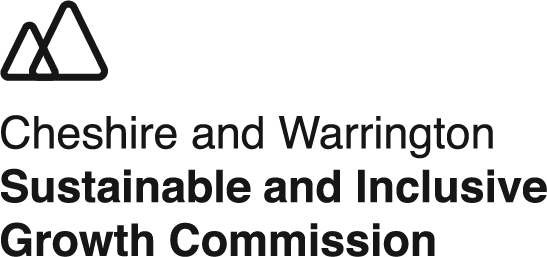 ---
The Cheshire and Warrington Sustainable and Inclusive Growth Commission1 was set up by the Subregional Leaders' Board in November 2020, with the aim of building on progress to date to help realise Cheshire and Warrington's ambition of becoming the most sustainable and inclusive subregion in the UK. After a period of research, engagement and consultation a final report with ambitious recommendations is available. 
The Commission has been working on four themes: Inclusive Economy, Sustainable Transport, Sustainable Land Use, and Net Zero. For each of these themes the Commission has developed an evidence base for Cheshire and Warrington's current position, a vision representing where the Commission believes the subregion should aim to be and a set of recommended actions to achieve these visions. 
The Commission is now promoting its final recommendations to stakeholders, residents and businesses to invite collaboration on achieving its aims.  
Recommendations made by the commission include: 
A fair employment charter for Cheshire and Warrington 
The decarbonisation of dairy  
The full decarbonisation of all transport by 2035 
Building the UK's First Net Zero industrial cluster around the area's large hydrogen and net zero projects 
Public investment to address disadvantage and target opportunities
Improve active travel and public transport
Provide new infrastructure/ support for electric cars and zero-emission vehicles to make them cost effective and accessible
Work with businesses, public sector and agriculture to speed up the transition to a circular economy
Retrofitting insulation and clean energy to housing, particularly for social housing and disadvantaged households
Access to digital for all 
Making current land use net zero  
We hope you will join us for the dissemination event in the autumn, details available shortly.  
Shortly, you can read about some of the projects supporting the work of the Sustainable and Inclusive Growth Commission in our library of case studies (available soon).  
Sustainable and Inclusive Growth Commission Briefing Pack and Terms of Reference
SIGC Briefing Pack And TOR
DATE ADDED: 10/22/2021 8:11:39 PM