Sustainable and Inclusive Growth Commission
Building a better future together post-Covid.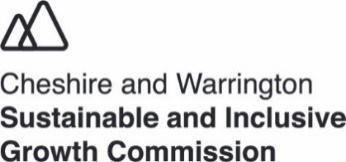 The Cheshire and Warrington Sustainable and Inclusive Growth Commission was set up by the Subregional Leaders' Board in November 2020, with the aim of contributing towards realising Cheshire and Warrington's ambition of becoming the most sustainable and inclusive subregion in the UK. A final report is to be produced in summer 2022.
The independent Commission is made up of elected representatives from each local authority and a Local Enterprise Partnership Board member, as well as representatives from carbon-intensive industries and agriculture, finance and investment, energy, and experts from civil society including university, housing and local nature sectors, and has also worked with expert advisers from beyond the Commission. The Commission's Secretariat is drawn from the LEP with support from the Local Authorities.
The Commission has been working on four themes: Inclusive Economy, Sustainable Transport, Sustainable Land Use, and Net Zero. For each of these themes the Commission has developed an evidence base for Cheshire and Warrington's current position, a vision representing where the Commission believes the subregion should aim to be and a set of recommended actions to achieve these visions. These findings are presented in this document. 
Consultation Phase
The Sustainable and Inclusive Growth Commission has now reached the Consultation Phase which will run for 8 weeks starting on Friday 18th March 2022. A Consultation Document, plus a version with extended evidence, has been produced (see below) which presents the evidence, vision, and recommendations for each of the four themes.
We are seeking comments, views, and engagement from across the subregion and beyond to engage with our thinking, to critique, and to assist us to move this agenda on and enable us to realise our shared vision for the benefit of all our people and places.
If you would like to provide feedback on the Consultation Document, please follow the link to our online survey. The questions will guide you through the document.
We can also offer a limited number of paper copies of the consultation document and survey questions on request. If needed, please email maisie.curry@cheshireandwarrington.com
The feedback from the consultation process will be used to sense check, review, and update the recommendations, creating a final report. Findings from the consultation exercise will be shared with those who took part in the consultation. 
SICG Consultation Document
SIGC Consultation Document (1)
DATE ADDED: 3/18/2022 1:21:02 PM
Sustainable and Inclusive Growth Commission: Consultation Document with Extended Evidence
SIGC Consultation Document With Extended Evidence
DATE ADDED: 3/18/2022 10:13:59 AM
Sustainable and Inclusive Growth Commission Briefing Pack and Terms of Reference
SIGC Briefing Pack And TOR
DATE ADDED: 10/22/2021 8:11:39 PM
Cheshire and Warrington
✖