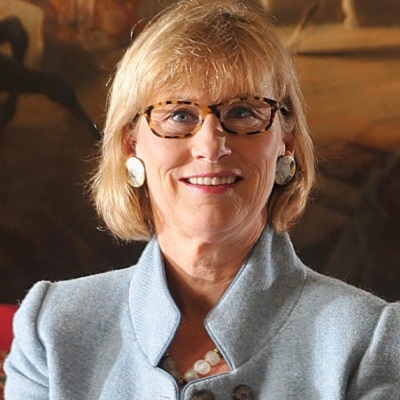 Sarah Callander Beckett, DL
Owner Combermere Abbey
Since 1992, Sarah has directed the restoration, renaissance and marketing of Combermere Abbey in South Cheshire.
Download Register of Interests
Born and brought up in the UK, Sarah Callander Beckett was educated in England and Italy and has lived and worked in the Far East and North America.

From 1979-1990, she was Director of Public Relations for Laura Ashley in North America, eventually returning to the UK as International Director of PR for Laura Ashley.
Since 1992, she has directed her extensive business experience to the restoration, renaissance and marketing of Combermere Abbey in South Cheshire. This has involved the planning and repair of several listed buildings which are integrated into the overall business at Combermere. In 2007 the restoration of the Walled Gardens and the Victorian Glasshouse was completed, and this now houses a weddings and events business. More recently, she has been concentrating on the restoration of the derelict North Wing of Combermere Abbey, a project which won several awards in 2016 – HHA/Sotheby's Restoration Award and the Georgian Group Restoration Award 2016.
In addition, Sarah has been, and is, actively involved in promoting tourism and rural enterprises both at a county and national level. Her involvement with leading marketing and tourism grant bodies over the past 20+ years is ongoing. She has contributed to several rural grant bodies and is currently a board member of the East Cheshire Leader Programme.
Combermere Abbey has won numerous awards, national and regional, for its 5* self-catering cottages, wedding business and luxury bed and breakfast.
She is a member of the Historic Houses Association, currently Chairman of the NW Region and joined the Board of Directors in 2016. She is also actively involved in the CLA : (Country Land and Business Association), served on the Council and Policy Committee, as well as a Board Director from 2008 - 2014.

She is a Director of Heronwood Trading Partnership, set up in 2008 with her husband, to develop rural business opportunities in redundant agricultural buildings, using traditional methods and environmentally appropriate products, to maximize energy efficiency and cost effectiveness.
She is also founder of Burn Callander, a PR consultancy which was created in 1978 and handles projects in a variety of PR fields- design, tourism and the environment.

In 2017-18 as High Sheriff of Cheshire, she was Her Majesty's representative in the county for law and order and was made a Deputy Lieutenant for Cheshire in 2018.
She was made a Trustee of the Cheshire Community Foundation in 2018.
She is married to Peter Beckett and has a son.