Funding Case Study: Ellesmere Port Central Development Zone, Local Growth Fund
Development of new Cheshire West and Chester offices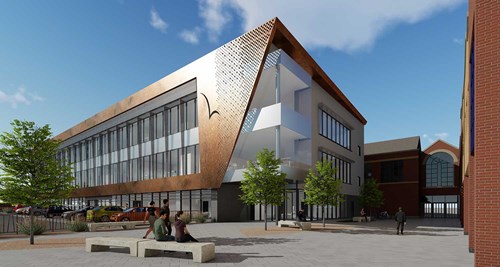 Project Name: Ellesmere Port Central Development Zone
Project Applicant: Cheshire West and Chester Council
Project Total Cost: £18.22m
Local Growth Fund Allocation: £8.6m
Contracted outputs:  29 new jobs, 600 new homes, 4418sqm of commercial floor space
Project Description: 
The  project is the development of new council offices for use by council staff, DWP and For Housing on the old bus station site in the town centre.  The existing bus station will be relocated and the existing council offices will be demolished  to make way for new housing once the new offices are complete.  The project will be a clear statement of support for the regeneration of the town centre and will be partly built on a the site of unit which has been vacnat for a number of year.  It is expected that health services will also relocate centrally in due course.
The first phase of development work in Ellesmere Port was completed with the opening of the new bus interchange along Civic Way.
Building contractors Vinci Construction UK Limited constructed the new bus interchange on behalf of Cheshire West and Chester Council and now start work building a new hub building.
Councillor Louise Gittins said: "I'm delighted to be able to open this first stage of the £17m investment into Ellesmere Port, part of a wider Masterplan for the town.
"Thanks to the joint funding from the Government's Local Growth Fund, next year we will be seeing a new hub building providing local people with easy access to essential public services in a modern and energy efficient place.  The building will bring together a wide range of important public services including employment; skills and learning; welfare and benefits; and housing support."
The Hub building is scheduled for completion by the end of 2021 with the Government's Local Growth Fund funding half of the £17 million project through the Cheshire and Warrington Local Enterprise Partnership.
Councillor Richard Beacham, Cabinet Member for Housing, Regeneration and Growth, said: "The Hub will be a modern, energy efficient building and it is scheduled for completion in autumn 2021. As we look towards the economic and social recovery from Covid-19, and a future beyond the pandemic, this new hub will play a vital role in providing local people with easy access to essential public services including: community safety and crime prevention, housing support, welfare and benefits support, plus health and wellbeing.
"It's also good news that Jobcentre will be joining the hub to enhance the employment, skills and learning guidance on offer for local residents."
Clare Hayward, chair of the Cheshire and Warrington Local Enterprise Partnership, said: "The project is an important catalyst for the regeneration of Ellesmere Port and one of a range of initiatives that the LEP is supporting in the area. We are delighted to see these attractive new facilities taking shape and our investment in the town centre coming to fruition."