Exporting Case Study: The Aftercare Company
Shirley has embraced e-commerce
The Aftercare Company is a skincare brand dedicated to providing aftercare solutions to those who have had tattoos, piercings and laser treatments.
Owner Shirley Jaffrey set up the business in 2000 after getting her first tattoo and was told to use haemorrhoid cream to heal her skin. But, as a qualified aromatherapist, nurse and natural health practitioner, Shirley spotted a gap in the market for aftercare treatments and was determined to create a better solution for herself and others.
With £400 as start-up money, Shirley got to work and began trialling different recipes for treatments in her kitchen. The final product was a balm containing a mixture of natural ingredients such as olive oil, beeswax, vitamin E and essential oils.
She sent samples to 50 tattoo artists across the country and, after receiving her first two orders, The Aftercare Company was born.
Now, the family-run, Ellesmere Port-based company offers products to heal skin after body piercings, laser treatments and microblading, distributing to more than 20 countries across the world.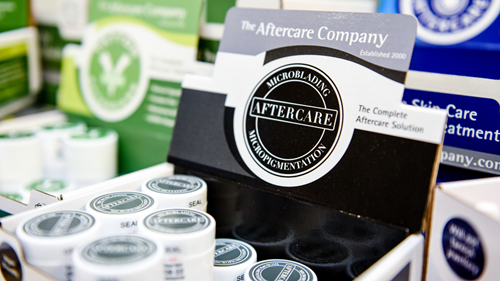 From the outset, Shirley has embraced e-commerce, with her own online shop and partnerships with e-marketplaces such as Amazon.
The company also sells direct to a number of UK companies who, in turn, also re-sell into Europe and worldwide.
Following support from the Department for International Trade, including grant funding to attend trade shows and pay for marketing materials to be translated into four languages; Shirley is looking forward to the next chapter.
Shirley said: "It wasn't until I got my first tattoo and started looking into the option to heal the skin that I realised just how few options there were; I felt there must be an alternative.
"Creating a business out of this has been an incredible journey. I started it with very little money – I was out of work at the time and had three young children to support, so I was passionate about making this work.
"Expanding into Europe and the USA felt like a natural step and we've been overwhelmed by the response from overseas customers. Now we want to continue to expand the product offering – we've just launched a new vegan range and we're also looking into which new territories are next on our list."
Find out more about The Aftercare Company here
Find out more about exporting support here