Exporting Case Study: Jeffrey's Tonic
Chester business gearing up for its first overseas launch
Jeffrey's Tonic is a soft drinks specialist, dedicated to creating tasty alternatives to alcohol-based drinks and standing out from the crowd. 
Founded in 2017, the Chester-based brand was created in response to the rising trend of sobriety or, more commonly, cutting down on alcohol consumption. 
They spotted a gap in the market for soft drinks that were not child-like or bland and, as such, looked into how real ingredients like elderflower, cassia and yarrow flowers could be infused in varying levels of complexity. 
Diluted with sparkling water, the result was the creation of a range of premium soft drink cordials which move away from the standard offering of non-alcoholic beverages. 
The brand is now stocked at Booths Supermarkets, as well as Cheshire-based outlets such as Chatsworth Farm Shop.  Products are also available in a number of independent restaurants and cafés such as The Jaunty Goat, The Emporium and Simon Rimmer's Greens Restaurant.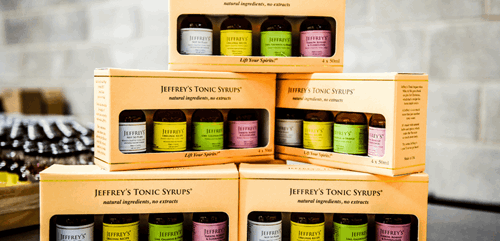 Jeffrey's Tonic is also available to buy via Amazon and direct via www.jeffreysdrinks.com.  
Now, the business is gearing up for its first overseas launch in the Gulf region, including Dubai and Abu Dhabi. 
Following advice from the Cheshire and Warrington Growth Hub and the Department for International Trade (DIT), Director Steve Frehley exhibited at a virtual food trade show, as part of a DIT Northern Powerhouse Trade Mission for retailers in the Gulf and is looking forward to expanding the brand's audience. 
He said: "We always knew that the brand was absolutely perfect for the Gulf region, due to the culture there, but it was just a case of waiting for the right time and positioning ourselves correctly. 
"We worked closely with the Cheshire and Warrington Growth Hub and DIT and we had a very successful trade show online, securing an order from a major brand.  
"We're now at a stage where we are going through product approvals with them and are looking forward to integrating within the market.  
"In terms of next steps for the business, the UK will remain a priority for growth but we are open to exploring new territories. We're also looking at how we can expand our product offering, as well as discussing new channels such as mobile bars." 
Find out more about Jeffrey's Tonics here
Find out more about exporting support here