Cheshire's Exclusive Behind-The-Scenes Activities – Making Your Teambuilding Event Truly Unique
Make your teambuilding experience truly unique.
We are all familiar with the classic teambuilding activities, but Cheshire has much more to discover than these alone. It also boasts countless experiences which could take you and your guests behind the scenes of its famous attractions, and activities that are only available to (corporate) groups – meaning highly memorable and exclusive treats for your team! Read our top recommendations below:
Sparkling Wine & An Unforgettable Time…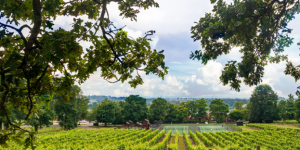 Credit to Carden Park Hotel.
Exclusive for group visits, take a tour around Carden Park Hotel's commercial vineyard, the largest of its kind in Cheshire. As you explore the 3-acres of land, discover its rich history and learn about the exciting journeys of the Seyval Blanc and Pinot Noir grapes from vineyard to bottle. Following the tour, be sure to sample the final sparkling wine, Carden Park Estate Reserve, in the hotel's newly opened restaurant The Vines at Carden.
As well as this unique vineyard tour, why not treat your team to a pampering session at the emblematic Spa at Carden, or an exhilarating few hours on Vertigo, the site's brand-new high ropes obstacle course and climbing wall?
Due to the uneven surfaces and physical requirements respectively, both the Vineyard and Vertigo experiences are unsuitable for wheelchair users. The Spa at Carden is, however, mostly suitable for those with limited mobility.
Marvellous Mansion Yearnings & Abundant Agricultural Learnings…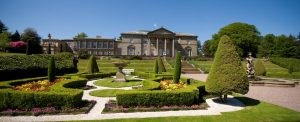 Complete with a neo-classical Mansion, historical working Farm, seemingly endless acres of parkland, and beautifully landscaped gardens, a group tour at Tatton Park will undoubtedly deliver the WOW-factor! Choose from three tours inside the stunning Mansion, our favourite being the 'Hidden Treasures Tour' which will take you and your delegates around majestic artefacts which are usually hidden from public view. In the gardens, learn how the Egerton family influenced the design of the magnificent 50-acres, or how the iconic Japanese Garden came about. Discover how the Farm has been producing food for centuries and meet some of the Characters who lived and worked there in the 1940s, or step into the three-storey agricultural mill and experience the restored machinery as it springs to life!
Prices for each tour range from £85 to £130, depending on your visit being midweek or weekend (additional charge on top of entrance). Having already paid entrance fees, you might as well embark on a self-guided wander of areas of the estate that you and your team have not yet explored!
Tatton Park itself features a myriad of support facilities. Be sure to visit the Stableyard to indulge in a decadent meal for all, or simply some light bakes and beverages. Plus, purchase some souvenirs from The Gift Shop, and luxury condiments or gorgeous flowers from The Housekeeper's Store and The Garden Shop respectively. Wheelchairs can be loaned for a £10 deposit, and assistance dogs are allowed in all areas. Read full accessibility guidance here.
Gin-Making Innovations & Teammate Reconnections…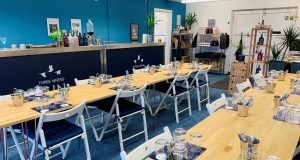 With the owner and master distiller of Three Wrens having over 20 years of experience in the drinks and spirits industry, and ancient woodlands with up to 50 edible plant varieties around the distillery's perimeter, a group tour to Three Wrens is certain to be insightful, enjoyable, and best enjoyed with a sample of fine gin!
Three Wrens offers two exciting tours: the 'Distillery Tour' and the 'Distilling Experience'. Each begins with an arrival drink, a hands-on demonstration of the botanicals used in the gin, and an introduction to the distillery's copper pot still 'Valerie'. Plus, you get to taste the full Three Wrens range, learn how to perfect artisanal cocktails, and make a batch of gin. In the 'Distilling Experience' only, your gin can be tailored to your preference – your own signature bottle of craft gin!
After your experience, be sure to visit the onsite store to take a bottle (or more) away with you, and a glass to enjoy it in, and maybe purchase a luxury handmade candle for the office to remind you of the great experience you shared with your colleagues!
Please note that public transport does not operate in Three Wrens' area, and so pre-organised transport is essential.
Flowering Formal Gardens & Fantastic Filming Grounds…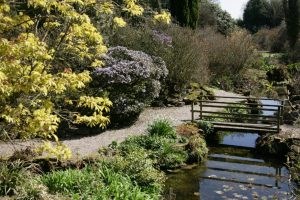 One of the North West's most interesting and attractive stately homes, boasting one of Britain's finest gardens, and being a popular filming destination for programmes including Peaky Blinders and Antiques Roadshow throughout the years, a group visit to Arley Hall & Gardens is certain to be a pleasure for all involved.
Guided by an onsite expert, discover the opulent lives of the family which has occupied Arley Hall for over 550 years as you admire the oak panelling, impressive fireplaces and intricate stained glass that endows The Hall. Follow this with an extensive, informative stroll around The Gardens, being sure to marvel at its famous Herbaceous Border, unique Quercus Ilex Columns, Pleached Lime Avenue and the furlong walk. Finally, plant your team in The Gardener's Kitchen as you indulge in either a menu prepared using local ingredients, or a selection of the finest tea and cakes around.
Stealthy Soldiers, Symbolic Structures & Stand-Out Humour…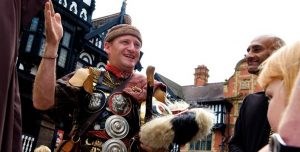 It is a well-known fact that Chester was once a prominent Roman Fortress. However, few people know more than that. Roman Tours in Chester looks to change that, with tailor-made tours covering the story of Deva, as told through the viewpoint of an authentic Roman soldier who lived through it. Learn all about the colossal structures of the Roman era, their social norms and behaviours, entertainment, and bathing habits. The best part? You and your team are almost guaranteed to learn lots AND have heaps of fun whilst doing so as these Romans are notorious for being light-hearted and humorous. What better way to pass an afternoon and reconnect with your co-workers?
If informed in-advance, the tour route can be made accessible.
Waterside Relaxation & Architectural Admiration…
Named as one of the Severn Wonders of the Waterways, and one of only two working boat lifts in the UK, Anderton Boat Lift is an architectural marvel situated in the heart of the Cheshire countryside. Despite this, it is still easily accessible from both the M56 and M6 and offers free coach parking.
All onsite itineraries to Anderton Boat Lift are tailor-made to your requirements. As an idea, your team's itinerary may begin with a dedicated meet and greet service, a glass-covered Lift & River Boat Trip (fully accessible), a canal-side stroll, and a self-guided visitor centre tour, making for a unique day out of the office for the team. Looking for something even more spectacular? Why not add the 'Top of the world Tour' to your agenda? Hungry for more still? Take advantage of Anderton Boat Lift's exclusive group catering packages featuring dishes such as crispy fish and chips for all, or a delicate cream tea (dietary requirements catered for upon request), both with stunning views to match.
Wonderful Watersports, Shoreside Shenanigans, & Corporate Companions…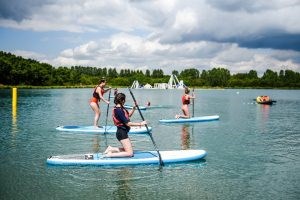 Nestled in the Frodsham countryside, a visit to Manley Mere, with its 100 acres of beautiful woodland and 40 acres of lake, is the perfect escape from the demanding distractions of the office, and so the perfect treat for your hardworking team.
The possibilities for exclusive corporate group activities are seemingly endless at Manley Mere! Your most adventurous employees may enjoy a session on the Aqua Blast inflatable waterpark, which can be adjusted to feature games and challenges to heighten the fun! Alternatively, the whole team could learn the trendy new sport of Stand Up Paddle Boarding (SUP), race each other on the intense, permanent obstacle course, or become chocolatiers for the day! Television aficionados may prefer to take part in the Manley Bake Off, become detectives in CSI:Manley, sharpen their critical thinking skills in the Krypton Factor, or try and beat Task Manley and their colleagues!
What is more? The site can cater for numbers up to 250, so you can make a day of your iconic activities without fretting over food and drink!
Sacred Sights & Frightening Heights…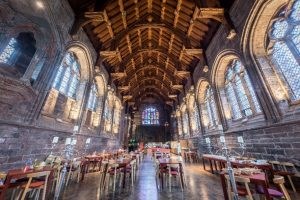 Credit to Mark Carline.
Centrally located in Chester, the gothic Cathedral has been blessing the city with its presence since its beginnings as a Benedictine Abbey in 1092. Alongside its countless religious ceremonies and services, the site is also a prominent tourism attraction, boasting gorgeous artefacts, delicious food (group catering available on request), and exclusive gifts.
For group visits specifically, you can take your delegates on one of two tours. The 'Ground Floor Tour – The Top Ten' (£5 pp) takes you through some of Chester Cathedral's finest treasures with a knowledgeable local guide, whereas the 'Cathedral at Height' (£6 pp for 30 minutes; £8 pp for 60 minutes) rendition showcases the site's unique blend of medieval and modern history alongside spectacular views and secret hideaways.
Please note that all group tours must be pre-booked at least 7 days in advance of your visit, and availability may be limited due to coronavirus. The site features an induction loop, a disabled toilet, and is generally wheelchair accessible.
So, there you have it: a selection of exclusive experiences which you can undertake with your colleagues as either a teambuilding session or simply a treat for all of their hard work! Let us know in the comments below if you are interested in any of them and be sure to tag @MeetCheshire in images of your experiences on Instagram!