Case Study: Werfen-Key Account Management with DIT
Werfen helped with EU Exit, grant support through KAM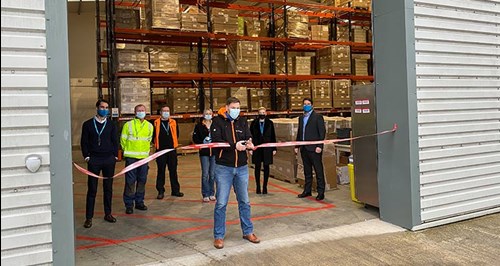 Werfen Ltd are a market leader in In Vitro Diagnostics (IVD) and their products are used to help diagnose a range of diseases and conditions. The company employ 85 people at their site at Warrington's Birchwood Park, part of the Cheshire Science Corridor Enterprise Zone. 
Working with the Local Enterprise Partnership (LEP), Growth Hub and the Department for International Trade (DIT) has given Werfen the opportunity to access support from a key account manager, who has helped the business:
Access grant funding
Access specialist import advice around the EU Exit
Take up more warehouse space as part of the firm's EU Exit contingency plans
With skills support, including for three new roles
Maximise the business rates discount received
Werfen Ltd located to Birchwood Park in 2016 and as part of the firm's contingency plans for the end of the transition period with the EU they extended their presence at Birchwood Park. By expanding their warehouse space, they were able to implement their supply chain strategy for the end of the transition period; meaning they could have held hold six weeks of stock, ensuring they can deliver their products, in the event of a delay at the border. The new space now has additional space for 250 pallets capacity, a new cold room for refrigerated stock, a larger refrigerating system and an improved warehouse management software system.
Their key account manager supported them with this development and also helped Werfen implement their new supply chain strategy, which resulted in four new jobs being created. The key account service has also helped Werfen, by connecting them with specialist advisers on importing, which is something Werfen had also been considering as part of their plan for the end of the transition period. In 2020, the key account management programme, helped Werfen access a grant of over £15,000 from Cheshire and Warrington LEP's BEEP fund, which sought to help businesses to reduce energy use and improve efficiency. Werfen have also received support from being based in the Cheshire Science Corridor Enterprise Zone, with a business rates discount granted from Warrington Borough Council. This discount has contributed towards the funding of the new warehouse space.
Andy Devaney, Business Innovation Director at Cheshire and Warrington LEP commented, "Werfen are a renowned global company in their field and I'm glad that the programme with DIT has helped them to access support at this crucial time and helped them to create jobs. The work that the key account manager has done with them has enabled them to fully implement their contingency plans, something an international business like Werfen needed and this has been achieved by a joint effort from the LEP and Department for International Trade. We look forward to supporting Werfen and their expanding team further"
Richard Hames, General Manager at Werfen said: "We are extremely grateful to the LEP and DIT for the support received so far from them during this journey and in particular to Ana Carbonell-Galiana for her tireless dedication. Resources offered to us were really welcome to ensure that our Supply Chain flows were ready by the end of 2020 so that we were able to keep delivering our sensitive products in the UK and maintaining the high level standards required by our customers (mainly NHS Hospitals). We would recommend to anybody moving to Cheshire and in particular Warrington to receive the same support we received."
The Key Account Management Programme is offered by DIT through the Northern Powerhouse for foreign-owned companies.