Case Study: Fire Safety Managers - Northern Powerhouse Investment Fund
Fire Safety Managers has secured £35,000 from funding round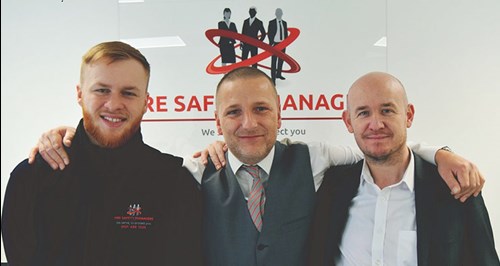 At the age of five, Paul Hughes survived a devastating fire that destroyed his family home. In 2015 Paul launched his own fire safety business Fire Safety Managers and is now delivering lifesaving solutions and training to businesses and education providers across the country from his Chester base.
Fire Safety Managers has just secured £35,000 as part of their latest funding round from NPIF – BFS & MSIF Microfinance  – a product fund managed by GC Business Finance  in partnership with MSIF and part of the Northern Powerhouse Investment Fund (NPIF).
The eight strong company specialises in installing fire alarms, fire extinguishers and emergency lighting alongside conducting risk assessments and fire safety training, including interactive workshops for children. The £35k investment will now be used to fund at least three new full -time jobs in Chester, to invest in marketing and training and to achieve accreditations that will enable the business to tender for opportunities for larger multi-nationals.
Paul Hughes, CEO at Fire Safety Managers, said: "Having been trapped in a serious fire in my childhood I went on to build a 15 year career focused on promoting fire safety and awareness. When an opportunity arose a few years ago to start my own business, I was determined to build a company that would deliver a better quality and better value service.
"This funding from NPIF brings us much closer to achieving our vision of being the UK's trusted provider of high-quality and affordable fire safety, an issue that every business in the country needs to be aware of."
Fire Safety Managers was introduced to GC Business Finance by DropJaw Ventures in 2017 and continue to receive investment and mentoring from Roy Shelton and his team at DropJaw.
Sue Barnard, Senior Manager at British Business Bank, said: "We are really pleased to be supporting this unique and admirable business in its mission to expand its reach to larger multi-national customers. Fire Safety Managers is a prime example of a SME which has scope to scale up thanks to NPIF. We look forward to seeing the business expand in the coming months, as it plans to invest in the employment of new staff members as well as marketing and training."
Mark Gibbons of GC Business Finance said: "Fire Safety Managers (FSM) has achieved very impressive growth in the last three years and Paul has worked hard to put in place an ethos, a structure and a management team that will ensure this continues for the long term.
"The NPIF investment will be key in taking FSM from a largely regional to a major national player in the industry over the next five years, something that we are very proud to be a part of."
Roy Shelton, Managing Partner of DropJaw Ventures, said: "We are delighted to support Paul and the Fire Safety team. Our ability to be able to provide access to capital, deploying our own funds alongside the Northern Powerhouse Investment Fund and then providing ongoing advisory services to help fuel business growth and develop the team is very exciting and leveraging the core of our capabilities."
The Northern Powerhouse Investment Fund project is supported financially by the European Union using funding from the European Regional Development Fund (ERDF) as part of the European Structural and Investment Funds Growth Programme 2014-2020 and the European Investment Bank.