Case Study: Duttons Builders Merchants- Northern Powerhouse Investment Fund
£250,000 cash injection to support the company's expansion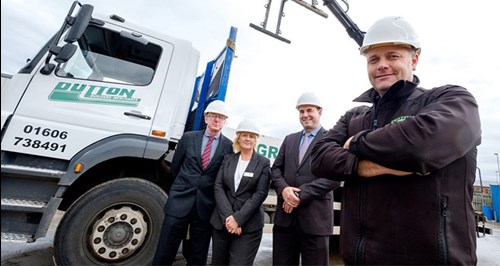 NPIF – FW Capital Debt Finance, managed by FW Capital, and part of the Northern Powerhouse Investment Fund (NPIF) has backed Middlewich-based Duttons Builders Merchants with a £250,000 cash injection to support the company's expansion with the creation of eight new jobs.
Established in 2013, the family-run business supplies a broad range of products to a wide customer base across the building and construction sector. Managed by Richard Dutton, the company has more than doubled turnover in the last four years, following a move to purpose-built premises on Holmes Chapel Road in Middlewich.
The business will utilise the funding to expand its product range and further develop its existing offering, as well as targetting larger customers which will further boost revenue figures.
Richard Dutton said: "Working with FW Capital has been quick and efficient. This funding will allow us to broaden our product range further and work with even larger customers. This an exciting time for our business and we are pleased that NPIF and FW Capital have chosen to support our vision."
Commenting on the loan, Simon Berry, Senior Investment Executive at FW Capital said: "Richard and the team have been in this sector for a long time and understand their customer base really well. The new premises have bolstered their position as a leading supplier of building products in Cheshire and beyond."
Grant Peggie, Director at British Business Bank, said: "It is an excellent achievement for FW Capital to complete its first investment in the Cheshire and Warrington area. All the NPIF fund managers on the ground are quickly establishing themselves as leading providers of small business finance in the North, and we are excited to see further investments over  the next few months."
Philip Cox, Chief Executive of the Cheshire and Warrington Local Enterprise Partnership, said: "The LEP has invested £13m into the Northern Powerhouse Investment Fund and I am delighted that Duttons has become one of the first businesses in Cheshire and Warrington to be helped by NPIF to grow and expand. I am looking forward to seeing many more such investments over the coming months."
Operating from the British Business Bank's Sheffield head office, the Northern Powerhouse Investment Fund provides a mix of debt and equity funding (£25,000 to £2m). It works alongside 10 Local Enterprise Partnerships (LEPs), the combined authorities and Growth Hubs, as well as local accountants, fund managers and banks, to support Northern-based SMEs at all stages of their development.
The Northern Powerhouse Investment Fund project is supported financially by the European Union using funding from the European Regional Development Fund (ERDF) as part of the European Structural and Investment Funds Growth Programme 2014-2020 and the European Investment Bank.