Blog: Our Exporting Journey- Calibre Control International
Firm export their baking quality instrument C-Cell globally
The blog below is written by Dez Hayton, Operations Manager, Calibre Control International, he shares the firm's export journey.
Established in 1988 and headquartered in Warrington, Calibre Control International sells a comprehensive range of safety and quality testing equipment to the food industry in more than ten countries. As well as being the UK distributor for one of the market leading manufacturers, we also design and build C-Cell, our own analytical laboratory instrument for testing baking quality.
C-Cell is the result of a research project between a North-West bakery and a food research organisation that was commercialised by Calibre Control International. It works by taking high-resolution colour images and processing these via a bespoke computer programme, producing up to 60 individual parameters used in the assessment of baked products, such as size, shape, and internal crumb structure. The results of this assessment can be used by individual bakeries to assess product quality and aid the decision-making process about changes needed in production and processes, all whilst monitoring slight changes that are not visible to the naked eye. This assessment can help bakeries to reduce the cost of production, reduce wastage and produce consistent, high-quality baked products.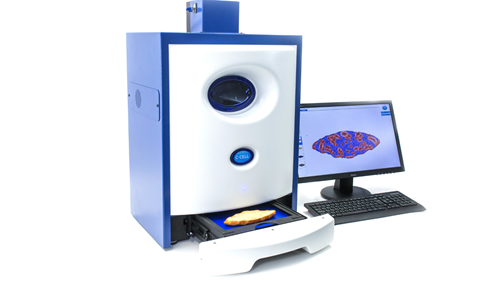 It was always our goal to become a manufacturer of our own laboratory equipment which would enable us to expand our marketing activities outside the UK. Following C-Cell's development over 20 years ago, we are now exporting globally, which has helped us to grow into a multi-million-pound company with more than 20 employees. Our biggest export markets is North America and our other big markets are Europe and the Far East; we feel that serving overseas clients is also an excellent way to make sure that we keep up to date with the latest market trends, innovations and the latest competitors!  This insight helps us to stay ahead of the curve and continue to pursue innovative new technologies for our customers.
We sell successfully overseas with exporting accounting for approx. 10% of our turnover. Expanding into international markets has not been without its difficulties for Calibre Control International and we have found that time and language differences place challenges on our international sales and after-sales processes. We have also encountered difficulties when distributing to multiple territories with differing customs requirements and these processes require careful management. Post-Brexit dealings with EU countries have also added additional complexity into our European shipping operations, however, with the help of experienced carriers and the team at Warrington Chamber of Commerce, we are now distributing to more than ten countries. In the future we plan to expand our distribution network further into North America, China and the Far East, but like many, our growth has been curtailed over the past 12 months due to our inability to travel to new territories to demonstrate the product to prospective distributors. This is something that we are hoping is now behind us and we have plans to exhibit at a number of trade shows which are now going ahead next year.
Find out more about exporting support here
Find out more about Calibre Control International here
Find out more about C-Cell here