Work with us to deliver Skills Bootcamps
Cheshire and Warrington LEP have been awarded £1.2 million for the financial year 2023/24 (Wave 4) from the Department for Education to deliver Skills Bootcamps to over 350 learners in Cheshire and Warrington. 
We have launched our Wave 4 open framework application process, and are open to receiving bids of any potential scale, until the end of 2023 (December). However, there are distinct points within the year where we will consider all proposals received and will make allocation decisions based on available funds and the grant award criteria. 
The open framework application process is a two-stage process: 
Stage 1: seeking a decision in principle

 

Stage 2: detailed application seeking a funding allocation

 
Below are the deadlines for applications and the associated expected learner start dates: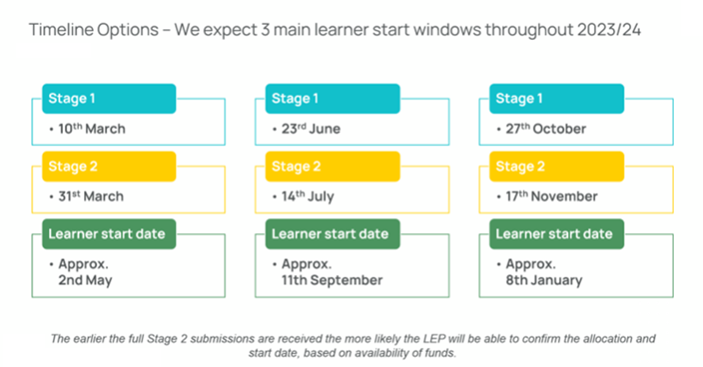 Cheshire and Warrington LEP are looking to offer Skills Bootcamps in the following areas: 
Digital

 

Technical

 

Construction

 

Green Skills

 

Pathway to accelerated apprenticeships

 

Other -

We are also open to receive applications looking to pilot an alternative Skills Bootcamp area, subject to strong local employer demand and support, as well as strong alignment to our Local Data and Labour Market Intelligence. 

 
For any queries or proposal submissions please contact: grants@cheshireandwarrington.com  
Download our Open Bid Framework & Supplier Response Template 
Download our Training Provider Guidance Pack HERE 
Download our Open Bid Framework and Supplier Response Template
Skills Bootcamp Open Bid Framework
DATE ADDED: 2/17/2023 9:35:29 AM
Download our Training Provider Guidance Pack HERE
Training Provider Guidance Pack
DATE ADDED: 3/9/2023 4:58:44 PM