Our top picks for indulgent spa days in Cheshire.
You know that your team has been working incredibly hard over the last few months, so why not gift them the chance to relax with an indulgent spa experience at one of Cheshire's most luxurious venues? Before swapping your shirt and work phone for a bathrobe and a glass of bubbly, be sure to read about our top picks for indulgent spa days in Cheshire below.
CARDEN PARK 
Full Spa Day Experience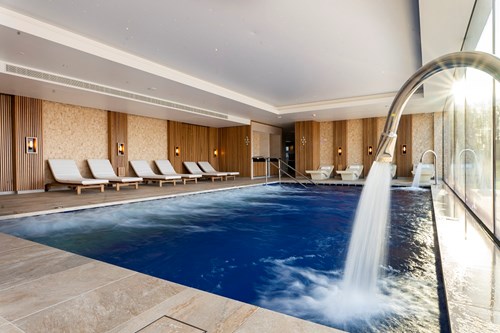 Reward your staff with an extra special Spa Day Experience at Carden Park Hotel, a stunning, luxurious country hotel located just 20 minutes from Chester which has been awarded a Five Bubble Luxury Award by the Good Spa Guide. Inside the stunning world-class spa, your employees will be spoilt for choice with a range of rejuvenating rituals, signature massages and purifying facials, as well as the venue's signature Thermal Experience. The pampering is not unique to indoors though, as outside your employees will be able to relax in the Spa Garden with a glass of fizz. What is more, all spa-goers will receive complimentary refreshments, comfy bathrobes, and flip flops to take away – completing the classic, indulgent spa experience. After experiencing everything the spa has to offer, you may be too relaxed and zen to journey home. If that is the case, why not slumber in one of the hotel's exquisite rooms or suites and dine at one of the four onsite restaurants, allowing for a little extra luxury? FIND OUT MORE HERE
THE CHESTER GROSVENOR HOTEL
Spa Day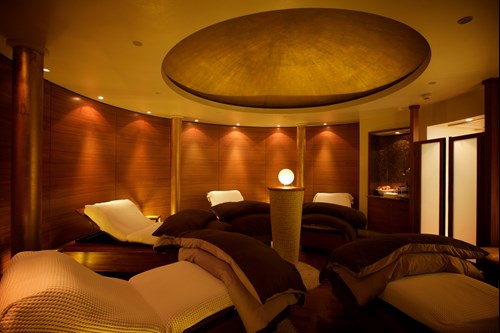 With a vast menu of treatment options ranging from nourishing body wraps, mindful massages radiating facials, as well as state-of-the-art facilities including an ice fountain, crystal steam room and Thermal Suite, your staff will feel fully revitalised after a luxurious spa day at The Chester Grosvenor, Cheshire's only 5-star hotel, located at the heart of Chester. Decadent two-course lunches and complimentary slippers come as standard as part of all spa days at The Chester Grosvenor, but why not take the pampering up a notch by adding a traditional afternoon tea, complete with handmade pastries and finger sandwiches and served in The Arkle Bar and Lounge, or by booking a glamorous suite and relaxing in the lap of luxury for the night? FIND OUT MORE HERE
CREWE HALL
Spa Day and Afternoon Tea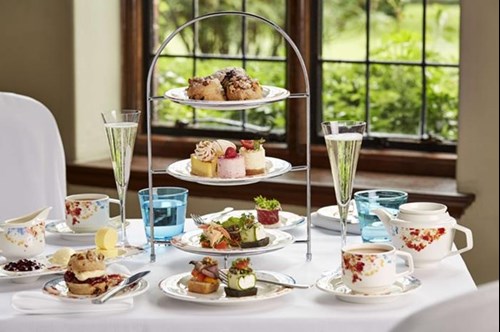 Nestled in the picturesque Cheshire countryside, Crewe Hall, a Grade I listed hotel, is an exquisite location for a spa day. With a number of decadent treatments ranging from deluxe manicures to relaxing massages, all using high-end ELEMIS products, as well as a jacuzzi, experience shower, and heated swimming pool, there will be no difficulty in whiling away the hours at Crewe Hall. The onsite health club also houses a fully equipped gym and tennis courts, perfect for an invigorating workout. After all of this, be sure to enjoy a delightful afternoon tea, perfect with a glass of the finest bubbly, and watch the world go by. If you want to lengthen your escape from the office, be sure to stay in one of the onsite bedrooms, complete with four-poster beds and opulent furnishings, and thus resembling the set of a period drama! FIND OUT MORE HERE
PECKFORTON CASTLE
Spa Day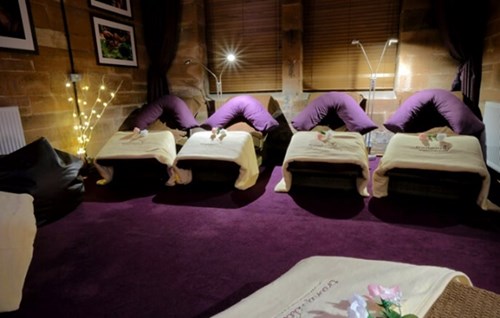 The enchanting Peckforton Castle Hotel, hidden deep inside the Cheshire countryside, could be the perfect escapism retreat for you and your employees. Experience the transformation from tired, rugged work tools frantic typing, to perfectly manicured, supple hands, or witness the magic of a restorative back massage on your posture. You could even transport yourself to the Amazon in the rainforest shower or relax in the warming hot tub. After this, indulge in unbelievable delights in the cosmopolitan Brasserie onsite, or take yourself to one of the numerous bedrooms inside this medieval-inspired wonder and let the comfortable beds put you under their spell until 'morn. FIND OUT MORE HERE
ROWTON HALL HOTEL
Spa Day Packages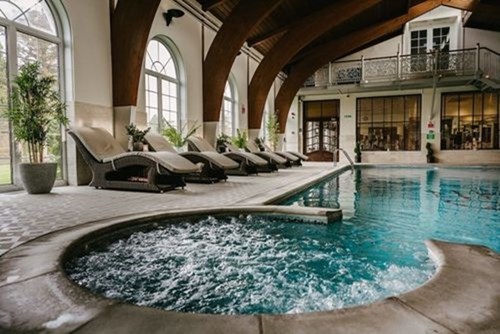 Located within minutes of Chester City Centre, Rowton Hall Hotel hits the jackpot between location convenience and beauty. Aside from its huge range of treatments on offer, such as detoxifying body wraps, hot stone massages and soothing facials, Rowton Hall Hotel also boasts a spacious swimming pool overlooking the magnificent hotel gardens. Other impressive facilities such as a jacuzzi, sauna, whirlpool and gymnasium make this spa venue perfect for incentive visits. After utilising the facilities and enjoying some well-deserved treatments, be sure to indulge in a delicious 2-course lunch or traditional afternoon tea in the exclusive health club lounge, and perhaps book a room overnight to make your escape last that little bit longer. FIND OUT MORE HERE
After researching all of these venues, we could certainly do with a luxurious spa day complete with pampering and bubbly to go around ourselves! We hope these have inspired you to #MeetInCheshire and make use of the county's indulgent spa offerings to reward your team members for all their hard work!