Funding Case Study: Congleton Link Road, LGF
The road will release 20 hectares of new employment land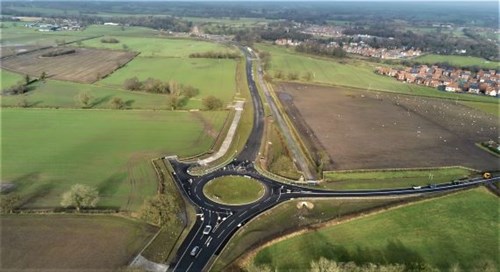 Project Name: Congleton Link Road
Project Applicant: Cheshire East Council
Project Total Cost: £90m
Local Growth Fund Allocation: £52.7m (£7.7m contracted locally and £45m from the Department for Transport)
Outputs:
Jobs created: 3,000
Public Sector Leverage: £61.1m
Private Sector Leverage: £20.8m
New homes: 2475
Commercial Floorspace Created (Employment land): 120,000sqm
Project Description: 
The Congleton Link Road joins the A534 Sandbach Road to the west and the A536 Macclesfield Road to the north, opening up connectivity and improving travel between Macclesfield, Congleton and the M6. 
The route will relieve the Cheshire East town of some of its historical traffic problems, create road space for cyclists and pedestrians and improve air quality for residents, while opening up new development opportunities for employment and housing.
The Congleton Link Road is a crucial piece of infrastructure required to support the employment and housing aspirations included within the Council's Local Plan Strategy. It will release 20 hectares of new employment land with the potential to create 3,000 jobs by 2035.
The road, which is Cheshire East's largest infrastructure project to date, is named after Congleton's famous pioneering educationalist and campaigner for votes for women, Elizabeth Clarke Wolstenholme Elmy. The construction and work of the road has been delivered by Graham Construction, who have also been appointed to deliver the Poynton Relief Road which started on site in January 2021.
Frank Jordan, Cheshire East Council's executive director for place, said: "The opening of Wolstenholme Elmy Way is a real cause for celebration and a fine achievement – not only for the council, Graham and road users but, above all, the people of Congleton.
"Traffic congestion has previously restricted town centre growth, reduced inward investment and also made it a challenge to retain existing businesses.
"Cheshire East Council is delighted this complex and significant project has been successfully delivered – and within budget – despite the additional challenges of two extremely wet winters and the unprecedented impact of the Covid pandemic. Coronavirus affected the schemes' suppliers and meant contractors had to take special measures to protect workers.
"Given the size and complexity of the project – and the additional challenges of the past 15 months or so – the progress made from drawing board to build completion has been astonishing. Everyone involved in this scheme should feel tremendously proud."