Exporting Case Study: Crest Medical
Warrington firm sells to 27 countries.
Crest Medical is one of the UK's leading names in the first aid and medical supplies market, having established itself as the largest provider to the NHS for Personal Protection Equipment.
Set up more than 20 years ago and part of Crest Medical Holdings (CMH), the company, under its trading brands, supplies a range of first aid, pharmaceutical and medical products across the UK and overseas.
Based in Warrington, Crest Medical sells to 27 countries across Europe, the Middle East, Africa, and the Caribbean.
The product range includes pharmaceutical medicines, first aid kits, bandages, dressings, and plasters, with a specialism in eyewash, medical gloves, and a wide range of medical supplies. Their sister company also handles third party logistics and supply chain solutions.
Crest Medical first approached the Department for Business and Trade to assist with connections to the regulatory authorities in the countries they were targeting. This is necessary to ensure their customers have the correct licenses to import and distribute their brands.
Sally Gibbons, Commercial Director at Crest Medical, said: "We have engaged with DBT to access their overseas teams, based in over 100 countries, who are able to give us the regulatory advice that we need."
"Since then, we have developed a good working relationship with our local DBT International Trade Adviser who keeps us updated on relevant activities. For example, we have participated in overseas trade missions to Arab Health in the UAE and Medica in Germany, both important tradeshows for us. We have also found DBT's Export Academy workshops extremely useful to help us become more efficient and upskill our staff.
"We've had huge success in a number of overseas markets, and we're committed to growing our presence even further."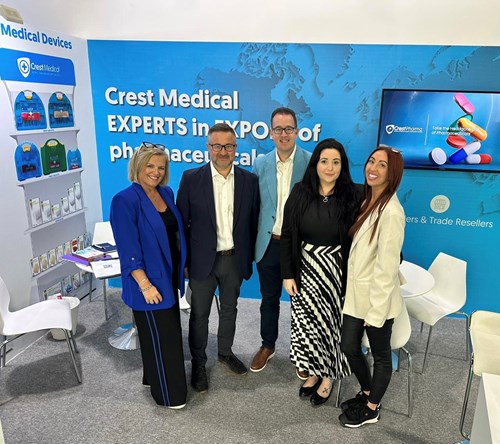 The Crest Medical team at the Arab Health Trade Mission
Sally added: "Ultimately, our goal on the pharmaceutical side is to develop, manufacture and sell our own product range. This is very much a long-term goal, but one we are confident that can be achieved, especially with the invaluable expertise of support organizations such as the Cheshire and Warrington Growth Hub and DBT."
Click for more information about Crest Medical
Click for more information about exporting support available