Case Study: ToughTech- Northern Powerhouse Investment Fund
Company has received a £100k investment from NPIF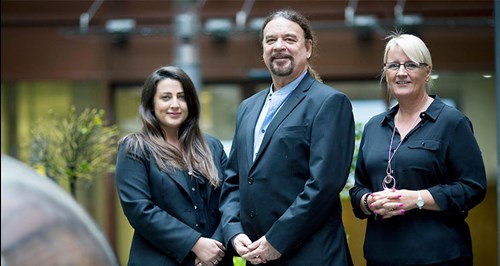 Tyre pressure monitoring systems firm ToughTech has received a £100k investment from NPIF – BFS & MSIF Microfinance, managed by GC Business Finance and MSIF and part of the Northern Powerhouse Investment Fund.
Established in 2017, Cheshire-based ToughTech provides tyre pressure monitoring systems (TPMS) for heavy goods vehicles (HGV) as well as Earthmover and Industrial machines that use pneumatic tyre technology. Demand is strong in the construction, commercial haulage, agriculture, mining and industrial sectors, with the technology offering a number of benefits including extended tyre life, improved fuel efficiency and increased operator safety with constant tyre pressure monitoring.
The firm has grown rapidly since its inception, providing TPMS to major tyre companies and blue-chip retail organisations globally, with clients based in Europe,  Africa, Australia and America. The monitoring systems can be adopted all over the world, which has been a huge factor in the firm's international success.
The £100k NPIF loan provided by GC Business Finance will be invested in the development of its technology, with the aim of adding solution-led telematics and tracking to its TPMS product offering. The firm is also looking to appoint support staff to ramp up production which will boost overall headcount, while also expanding its sales team in order to meet demand and aid growth. The deal was introduced by Stephen Frazer of Frazer Hall Corporate Finance.
Barry Lowe, Co-Founder and CEO of ToughTech, said: "Highways England (2015) estimated that as many as 3,600 accidents are directly related to flat tyres or low tyre pressure. The technology we have created is really important in cutting this figure and will allow drivers of commercial vehicles to feel safe in their vehicle with the knowledge that their tyre pressure is constantly monitored.
"ToughTech's growth over two years has highlighted the demand for our product across a range of sectors, both on and off-road. NPIF's funding will allow us to meet the market's demand for TPMS and support us in our mission to make the vehicles and machines more environmentally and cost efficient as well as enhancing the safety of drivers and operators across the globe."
 Jala Daly, Business Development Manager at GC Business Finance, said: "ToughTech's extensive list of international clients shows its impressive scale, despite being a young company. The product already offers a wealth of benefits to its users, but with further development, it will soon become a necessity for all commercial HGVs. The potential for further growth is huge and we look forward to seeing how this investment will help to accelerate the company."
The Northern Powerhouse Investment Fund project is supported financially by the European Union using funding from the European Regional Development Fund (ERDF) as part of the European Structural and Investment Funds Growth Programme 2014-2020 and the European Investment Bank.