Case Study: STM Power Transmissions- Manufacturing Growth Fund
OEM supply chains unlock growth for STM Power Transmissions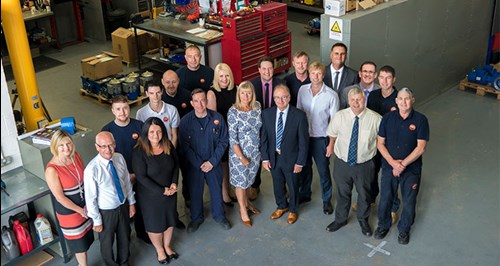 STM Power Transmissions Ltd is a leading provider of Industrial Gearboxes, Geared Motors and Electric Motors, offering world-class brands including GSM and STM. Based in Winsford, but operating nationwide, the company has been in business for over 25 years and employs 18 people.
STM Power Transmission Ltd serve a wide cross section of markets including recycling industry, chemical process sector, lifting appliances, water treatment, renewable energy and increasingly the OEM sector. STM have experienced strong, sustainable growth over a number of years as they have developed a servitization business model to align with their range of products. The next opportunity for growth was to implement a diversification strategy for supporting Gearbox Motors and ancillary products, which would require them to expand their reach further.
Andrew Ralston director of STM Power Transmission Ltd, said: "We were performing well partly due to our existing knowledge with clients in the sector. However, I knew that accessing the major OEMS and high-end supply chains would be essential for the business to grow."
Andrew realised that to grow further in these supply chains would require a robust and targeted marketing strategy, however the cost to bring in this external expertise was prohibitive.
Andrew called on support from the Manufacturing Growth Fund, a grant funding programme aimed at increasing the productivity of small and medium-sized manufacturing enterprises in the North West of England. Andrew met with Phil Anders, a specialist manufacturing adviser in the Warrington and Cheshire region to talk through STM's growth ambitions and how the grant could support this. Together, they developed a consultancy project to bring in the expertise that STM required, with 30% of the cost funded by the Manufacturing Growth Fund.

STM Power Transmission Ltd procured the services of a sales and marketing agency to develop a comprehensive communications strategy positioning the business as a leader in their field with a first-class servitization offer. The campaign targets the more lucrative OEM markets and is helping the business to develop a global presence which mitigates any risks presented by Brexit and the trade arrangements with Europe. The project enabled STM to develop a multi-channel marketing plan to deliver this strategic goal. In addition, the business have established a new approach to retaining clients and have taken on an experienced key account manager to service the key clients.
Andrew says, "The support the Manufacturing Growth Fund provided was really helpful. Even with the Fund's grant support, the strategic sales and marketing project was going to be a big investment for us, and it was important to consider the risks before implementing this. Phil reassured me that it was the right decision when we analysed the new markets it would open up and jobs it would create across the business."
Phil Anders, the Cheshire and Warrington specialist manufacturing adviser, said: "STM are very well respected in the industry for their dedication to quality and customer excellence and they were already working to a high standard.
"The move to develop new markets is a major step change for STM, and Andrew and his team are already seeing the benefits with developing new business. Not only have they taken on a new member of staff, they've launched a new product to market and are estimated to increase sales by over £100K this year. Andrew's ambition to grow the business and the amount of hard work he and his team has paid off which is great to see. "