Case Study: Prochem Services- Manufacturing Growth Fund
Awarded a grant worth £3,000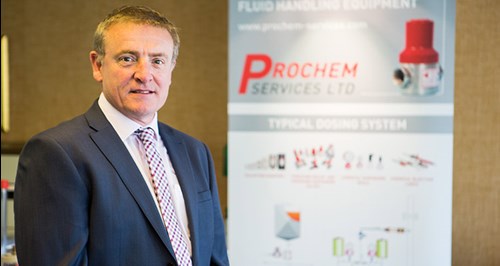 Prochem Services manufacture corrosion resistant valves and other equipment from their factory in Congleton. The business supply industrial businesses in the water, waste water, effluent, power generation, oil & gas, chemical processing and food sectors across the UK, Europe and the rest of the world.
Along with production of standard equipment the business offered a bespoke service, designing and manufacturing products to a specification for OEMs and end users.
The Challenge
Prochem Services were looking to grow and needed to develop a sales and marketing strategy. Mark Chapman, Managing Director of the business said: "The business was performing well and we had a strong base of customers throughout the UK, Europe and the rest of the world, but we had ambitions to grow further. We needed to bring in a communications specialist to help us design and implement a sales and marketing strategy which would win new business."
Mark approached Phil Anders, Specialist Manufacturing Advisor for the Cheshire & Warrington Manufacturing Growth Fund for support. The fund would provide the business with 30% of the project value to bring in the external expertise the business needed. Mark and Phil worked together to design the brief, apply for the grant and research the provider to deliver the project.
The Results
Prochem Services were awarded a grant worth £3k in early 2018 and appointed a communications specialist to deliver the project. The project has created a strategic plan including routes to market, channel identification as well as setting objectives for performance. The plan includes a strategy to improve existing account management practices, along with a plan to increase brand awareness in the sectors they operate.
Mark said: "Delivering this new marketing strategy presents a fantastic growth opportunity for Prochem Services. We've embraced traditional sales channels along with digital technology to ensure that we can reach our target audience in the most appropriate way."
Phil said: "This project is a fantastic opportunity for Prochem Services to grow. The ambition to enter new markets and win new business is fantastic, and with such a strong portfolio of products and services, this strategy should see them increasing turnover by the end of the year."
The business has created a post for a technical apprentice which will allow more time to manage the sales and marketing strategy in the future.
Mark said: "Our strategy is to sustain a pipeline of new customers for the business whilst increasing turnover with . We anticipate that in the first year we will increase turnover by £100k, which will enable us to look at further growth plans in the New Year."