Case Study: Frank Olsen Furniture- Northern Powerhouse Investment Fund
Intelligent furniture company boosted by NPIF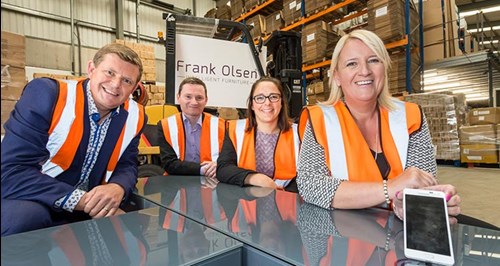 Intelligent household furniture specialist Frank Olsen Furniture has obtained a £25,000 investment from the Northern Powerhouse Investment Fund (NPIF) to support its expansion from a start up to a scale up business following a sharp increase in retailer demand for its products.
The investment was made by NPIF – BFS & MSIF Microfinance, the NPIF product fund managed by Business Finance Solutions (BFS) and by MSIF
Nantwich-based Frank Olsen Furniture designs and manufactures a range of bedside, cabinet and TV and media stands, incorporating remote technology to wirelessly charge mobile phones and other handheld devices.
With clients including major retailers House of Fraser, Bensons for Beds, and Arighi Bianchi, turnover has grown quickly since the company was founded in 2016 and received a £25,000 British Business Bank Government backed Start Up Loan managed by Business Finance Solutions (BFS) earlier this year.
The additional £25,000 investment will now enable the business to purchase the stock required to fulfil confirmed orders as well as bring roles in-house in order to improve margins. Led by Managing Director Charlie Graybrook, the company is also set to create three additional jobs over the investment period.
Mark Gibbons, Senior Loans Manager at Business Finance Solutions, said: "Frank Olsen Furniture is a great example of how the alternative finance service structure in the North West has evolved to support businesses from the outset and throughout their growth journey. Having received a Start Up Loan from BFS last year, Charlie and his team came back to us to secure the additional finance they needed to continue to build their presence in this emerging market.
"Having developed a range of furniture that offers both stunning aesthetics and intelligent features, this new investment from NPIF means that the business is now in a strong position to grow and to maximise the opportunities for their intelligent furniture to shape the way we live and work."
Charlie Graybrook, managing director at Frank Olsen Furniture, said: "Interest in wireless charging continues to pick up momentum and, with major companies just beginning to explore its capabilities, businesses utilising this technology that have already launched quality products to the market are in a great position to capitalise.
"We have seen first-hand the strong demand for this technology and have been delighted with the response our products have received by customers and major retailers. With this investment from NPIF, we are able to invest in new stock, bring roles in-house and create new jobs, allowing us to build on the strong growth we have already achieved since we launched last year."
Sue Barnard, Senior Relationship Manager at British Business Bank, said: "Businesses in Cheshire and Warrington continue to display a strong appetite for growth, investment, and a desire to innovate. Frank Olsen Furniture is a prime example of a business that is ahead of the curve, and we look forward to seeing what its talented management team can achieve with this NPIF investment."
The Northern Powerhouse Investment Fund provides microloans, debt and equity investments, ranging from £25,000 to £2m to help a range of small and medium sized businesses to start up, scale up or stay ahead.  The Northern Powerhouse Investment Fund is delivered by The British Business Bank.
The Northern Powerhouse Investment Fund project is supported financially by the European Union using funding from the European Regional Development Fund (ERDF) as part of the European Structural and Investment Funds Growth Programme 2014-2020 and the European Investment Bank.