Case Study: Ebb3- Northern Powerhouse Investment Fund
ebb3 secures follow-on investment from Maven funds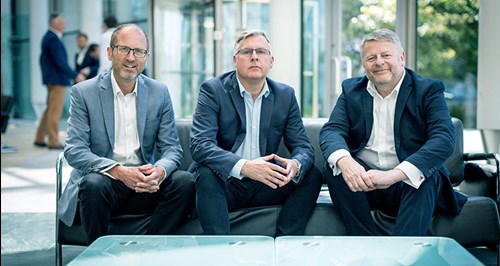 ebb3 secures follow-on investment from Maven funds to build their team of experts and meet the increasing demand for their GPU-enabled VDI services.
Maven Capital Partners (''Maven''), has led a £900,000 investment in supercomputing technology specialist, ebb3 Limited (''ebb3''). A total of £750,000 was invested by NPIF – Maven Equity Finance (''NPIF''), managed by Maven and part of the Northern Powerhouse Investment Fund, with a further £150,000 provided by the Maven VCTs. The funding will enable ebb3 to further scale the business, double its headcount and support the growing demand for the company's complete high-performance virtual workspace.
ebb3 redefine the concept of VDI for organisations that rely on data-intensive applications. Unlike any other service provider, ebb3 securely bring virtual desktops and high-performance applications to any location and any device.
For organisations embarking on a digital transformation project, ebb3 design and build services to fit their needs. For those with existing services, ebb3 fix and improve them to deliver better results. By providing a unified user experience ebb3 allow their customers to work smarter not harder. Their teams are freed to become productive which enables business competitiveness. The managed service is cost effective, secure and simple because the need for dedicated server and workstation compute environments is removed.
Powered by industry leading technology, ebb3 bring together technologies such as Cisco's HyperFlex Infrastructure, NVIDA Tesla GPUs and Citrix to deliver data intensive and high-performance applications safely and securely to meet the demands of any workflow whether it's 3D CAD, machine learning, photo realistic rendering, HPC or VR.
The ebb3 team are experts in designing and delivering GPU-enabled VDI as a managed service. Managing Director, Chris Brassington's experience in the IT services market includes BT, NCR, Cap Gemini and 2ergo Plc.
Chris Brassington, Managing Director of ebb3, said: "It's tremendous news as it means that we can now further enhance our team of experts and continue to develop and build our services to unlock even more potential for our customers. We're proud that we have successfully demonstrated how our capability will change the way businesses work."
Dave Furlong, Investment Director at Maven said: "We are delighted to provide follow-on funding to ebb3 as it enters an important scale-up phase in its growth strategy. ebb3's differentiator is their ability to understand the problems faced by customers' looking to deploy GPU technology within a data centre and present them with a solution that solves these problems today and into the future. We look forward to working with Chris and the team as the business grows its headcount to support the increased demand for its software."
Grant Peggie at British Business Bank, said: "We are pleased that NPIF has continued to support high-growth businesses in the North, providing vital funding to support the employment of new staff and upskill existing staff and expand into new markets. This investment demonstrates how funding can make a real and measurable difference to small growing businesses across the Northern Powerhouse region, which helps create a more prosperous regional economy."
Graeme Bristow, board member of Cheshire and Warrington LEP, said: "In just 3-years ebb3 have gone from start-up to scale-up with innovation at their core, so we are delighted that NPIF investment will enable ebb3 to grow further by investing in their team and product development. ebb3 are part of the fast-growing and specialised technology sector that exists in Cheshire and Warrington and we look forward to supporting them in achieving their growth targets at Alderley Park."
The Northern Powerhouse Investment Fund project is supported financially by the European Union using funding from the European Regional Development Fund (ERDF) as part of the European Structural and Investment Funds Growth Programme 2014-2020 and the European Investment Bank.