Case Study: Delta Balustrades- Manufacturing Growth Fund
Fund paid for a specialist sales and marketing consultant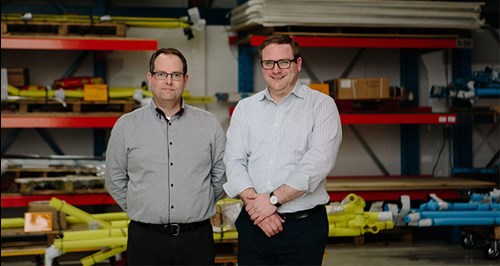 Delta Balustrades design, manufacture and install bespoke glass balustrades as well as supplying and installing handrails for the construction sector. The business which operates from its factory in Sandbach, Cheshire was established in 1984 and employs over 40 people.
Stephen Boyt, Managing Director of Delta Balustrades said: "We're a quality manufacturer, offering a high-quality product to a number of sectors. The business is operating well and is a market leader in its sector, however, we could all see the opportunity to grow."
Having identified this opportunity, Stephen set a target to improve sales and commercial performance by 20% in the 2017/18 financial year. To do this, Stephen realised that the business would need specialist expertise who could help them to develop their brand, identify new markets, and design a strategy to win new business. He called upon support from the Cheshire and Warrington Manufacturing Growth Fund.
Stephen said: "We didn't have the resource or the expertise internally to develop a strategy which would meet our targets, so I met with Phil Anders, specialist Manufacturing Advisor for the Manufacturing Growth Fund in Cheshire and Warrington. Phil got to know our business and understood our requirements. He helped us to design a project brief which would bring in a specialist sales and marketing consultant and provided grant funding for 30% of the project value."
"The process to apply for the grant was simple, Phil helped with the application and we were awarded a grant of £3,150 towards the total value of the project."
Phil said: "The project at Delta Balustrades was a perfect case for receiving grant funding. They had growth ambitions and a clear plan. The Manufacturing Growth Fund meant they were able to bring in a specialist to achieve their objectives effectively and in a faster timeframe than if they had tried to deliver the project themselves.
"We all know how 'business as usual' can take our attention away from future planning, by investing in this project, the business was committed to developing a long-term growth strategy."
Stephen and Phil appointed the services of the most appropriate specialist to help deliver the project. The consultant worked with the business over a six-month period to develop the sales and marketing strategy, implementing a best practice approach to delivery and provided valuable market research on their existing and potential markets and customers.
Stephen said: "This project has helped us enormously. Not only do we now have a comprehensive sales and marketing strategy and plan, we also have a better understanding of our customers. This will help us implement a servitization business model in the future to service and retain our clients for many years to come. We have a best practice strategy for managing customers, and our consultant ensured that this is ingrained throughout the business."
Since completing the project, Delta Balustrades have won new business and increased sales by £800k, contributing towards their increased sales target. They have also recruited a Marketing Executive who joined the business in January 2018.
Stephen said: "This strategy presents a sea change for Delta Balustrades. This is not a one-off drive for new business, this is a long-term approach which I hope will see us continue to grow. By investing in a Marketing Executive, we now have the necessary skills and resource inhouse to help us achieve this."