Case Study: Colibri Scientific- Northern Powerhouse Investment Fund
Clinical trials service, has secured £80,000 loan from NPIF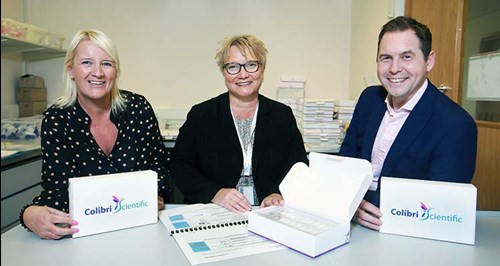 Colibri Scientific, a clinical trials service, has secured an £80,000 loan from NPIF – BFS & MSIF Microfinance, managed by GC Business Finance and MSIF and part of the Northern Powerhouse Investment Fund.
Established in Alderley Park in 2017, the firm provides clinical sample services to biotechnology and pharmaceutical companies and investigators in the early stages of clinical development. The team at Colibri Scientific is made up of industry experts with vast experience, focussing on minimising error in clinical trials. By using clinical samples, clients can focus on putting patient safety first, helping to provide a better service. The firm also offers scientific vendor management, making sure laboratories are fit for purpose.
The £80,000 loan will be used to bolster the firm's headcount, as it looks to appoint a project manager and plans to take on more kitting manufacturing specialists later on in the year, taking the total headcount to six people. The firm is also aiming to expand by developing a laboratory information management portal (LIMP) which is a client-facing portal that can be used by all involved in each trial taking place.
Sue Keeler, Managing Director of Colibri Scientific, said: "Our services are really important for small to medium biotech businesses in the early stages of their clinical development. Colibri focus on minimising errors across the sample chain, allowing clients to priortise the clinical aspects of the trial. Accessing funding from NPIF was a straightforward process and the valuable service they bring is helping small businesses like ourselves to increase headcount and aid growth, something that we would have struggled to do without investment."
Simon Truby, Senior Business Loans Manager at GC Business Finance, said: "As a relatively small business, we have been impressed by Colibri Scientific's growth and potential to aid the sector. In some clinical trials, up to 10 per cent of samples do not generate a result, leading to loss of vital data. With our investment, we hope to see the firm use its vast knowledge of the industry to minimise the risk of sample loss and maximise the data from the trial".
The Northern Powerhouse Investment Fund project is supported financially by the European Union using funding from the European Regional Development Fund (ERDF) as part of the European Structural and Investment Funds Growth Programme 2014-2020 and the European Investment Bank.