Case Study: BMECH- Northern Powerhouse Investment Fund
BMECH has received a £100k investment from NPIF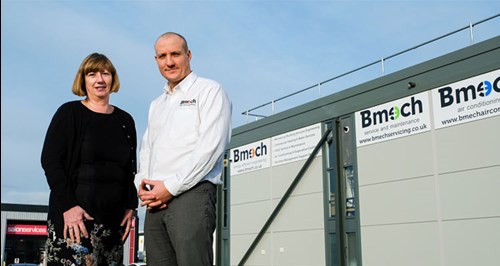 Warrington-based engineering company BMECH has received a £100k investment from NPIF – FW Capital Debt Finance, part of the Northern Powerhouse Investment Fund (NPIF), to support its further expansion.
BMECH provides energy efficient heating, air conditioning, ventilation and electrical systems primarily to the facilities management industry and end users.
The company was set up 27 years ago and taken over by current MD Rob Ditchfield, the founder's son, in 2011. He has grown the company from a £180k turnover business and six employees to a £2.2m turnover company with 29 staff.
The loan will assist the fast growth of the company, creating around 10 new jobs and increasing turnover to £3m this year.
Rob said: "We realised that we needed external funding to maximise our growth potential.
"FW Capital understood our vision exactly and put together a funding package that perfectly suited the needs of our business. The investment has enabled us to bring the electrical and air conditioning divisions in-house so that all works in this area are now undertaken by our own engineers rather than sub-contracted. We have a business plan to reach a £5m turnover within three years.
"We want to create engineers for the future too and are passionate about providing training opportunities to help address the skills gap. We've committed to an apprenticeship scheme which will see at least one apprentice being employed every year although we've actually taken on three during the last 12 months."
FW Capital investment executive Carol Bolland added: "The contractual nature of businesses in this sector mean that it can be hard to obtain finance from traditional sources but it is an industry we are actively investing in.
"We're delighted that our funding has already made a significant impact at BMECH and would like to encourage other similar businesses to come and speak to us if they are looking for capital to grow."
Sue Barnard, Senior Relationship Manager at British Business Bank, said: "As businesses across the UK are continuously seeking opportunities to improve energy efficiency, BMECH is in a good position to take advantage of this lucrative market. The company has witnessed strong growth in the last few years, and with this additional funding coupled with a sound business plan, BMECH can continue its impressive expansion."
Philip Cox, Chief Executive of the Cheshire and Warrington Local Enterprise Partnership, said: "This is fantastic news for BMECH and Warrington. We are pleased to see that our investment in the Northern Powerhouse Investment Fund is making a tangible difference to businesses, as demonstrated by BMECH bringing the electrical and air conditioning divisions in-house, maintaining local engineering jobs and creating new jobs and apprenticeships. BMECH is an important local business and provides a vital service to many of our largest employers across Cheshire and Warrington and beyond and we look forward to their continued growth and development"