Another new Chester marketing campaign launches
New £100k summer 'Escape to Chester' campaign launched
Marketing Cheshire, the organisation behind Visit Chester & Cheshire, have secured £100K funding from VisitEngland for a media campaign to promote the city of Chester. The campaign launched in June and will run throughout the summer to attract visitors throughout the rest of the year.  
Named 'Escape the Everyday', this campaign has taken a bold approach to marketing the city – choosing the active, adventurous experiences that would appeal to a younger demographic.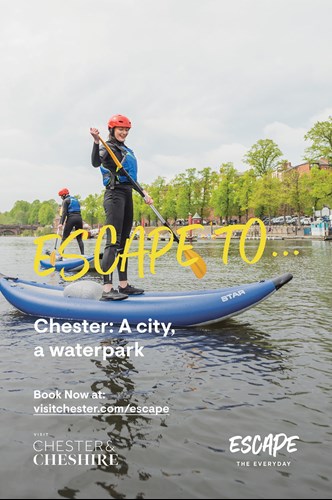 Nicola Said, commercial director, Marketing Cheshire explains: 'Many know Chester for its history; architecture through the ages, beautiful-cobbled streets, Roman ruins, and atmospheric cathedral, but what we wanted to also highlight was a more exciting, adventurous and vibrant side to Chester. 
'We're focusing on experiences like white water kayaking on the weir in the city centre, cycling or scooting around the city, running the Roman walls which offers a perfect circular route. Not to mention our amazing outdoor theatre and cinema offerings, which quite literally turn our city into a stage.' 
'Lots of our visitors know we are blessed with excellent restaurants, but perhaps don't know about our European style alfresco dining on pedestrianised streets – or that you can visit a micro-brewery in the city centre.' 
She added: 'Holidays and mini-breaks are all about the experiences – and escaping our day-to-day grind. This campaign will let the rest of the UK to know why Chester is the perfect place to do that.'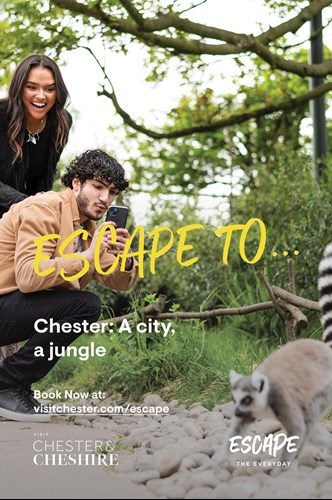 This new 'Escape the Everyday' campaign will sit alongside the 'Our family welcomes your family' campaign that recently launched using local families and family run businesses sharing what they love about Cheshire to families elsewhere in the UK. 
It will reinforce and complement the work carried out by Destination Chester, the economic network of tourism partners who have created city-wide initiatives to support tourism and the businesses within the city, during challenging economic times.