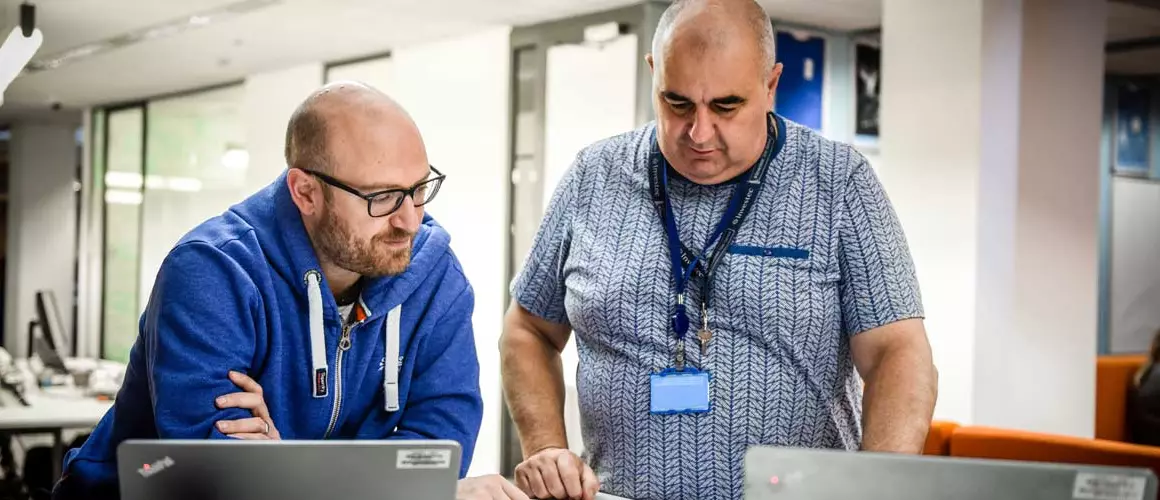 As an organisation we have a wide variety of opportunities for businesses to work with us. Any current opportunities are shown below.
Occasionally we will display opportunities on behalf of partners, these will be clearly labelled as a partner opportunity and we hold no responsibility over the outcome of these opportunities.
Invitation to Quote - Research & Communications Development/Delivery for Skills Bootcamp Programme
The Local Enterprise Partnership leads the growth of the Cheshire and Warrington economy through a powerful partnership between the private, public, and voluntary sectors. Our ambition is to be the UK's healthiest, most sustainable, inclusive and growing economy. Working in collaboration with local government, businesses, educational institutes and other public, private and community sector organisations, we keep Cheshire and Warrington firmly on the map.

Skills Bootcamps is a programme run by the Department for Education (DfE), as part of their wider Skills for Life campaign. In February 2022 Cheshire & Warrington were invited to work up a grant proposal to enter the third wave of Skills Bootcamps. Cheshire & Warrington were confirmed an allocation of approximately £1m in May of this year, to deliver Skills Bootcamps for 264 learners by the end of March 2023.
Skills Bootcamps are free, flexible courses of up to 16 weeks (and minimum of 60 guided learning hours) for adults aged 19 or over. Skills Bootcamps can be face to face, online or hybrid. They give people the opportunity to build up valuable sector-specific skills based on local employer demand and provide a direct path to a job on completion. They are primarily aimed at delivering flexible training at levels 3-5 (medium to higher level technical skills), and level 2 in some sectors. Learners can include young people aged 19+ who have just left or are about to leave education, employees and people who are out of work or  economically inactive.
As the unique nature of a Skills Bootcamp is that it is responding to local employer demand, and with a target of 100% of the learners who complete the course to receive an interview, there is a fundamental requirement that the Skills Bootcamps are co-designed or shaped with employers and
are directly responding to their skills shortages.
It is expected that the Skills Bootcamp programme will run until at least March 2025, with the Wave 4 opportunity believed to be imminently announced, and since its initial launch Government have added new skills areas, geographies and additional funding has been made available to exponentially grow the programme.
While Cheshire & Warrington are still in the early stages of the Skills Bootcamp programme there is a growing need to continue to make and grow the market for Cheshire & Warrington, and develop and deliver targeted communications to our four audiences (learners, employers (large and small), training providers and referral partners).
Timescales:
Issue brief for procurement - 10/11/22
Deadline for queries - 18/11/22
Deadline for submissions - 30/11/22
Appointment of successful provider - 02/12/22
Inception meeting w/c - 05/12/22
Completion of work  - 17/02/23
If you require any clarifications relating to the information contained within this invitation to quote please contact Rebecca Luck (contact details below) before 12:00 noon on 18th November.
Responses to requests for clarification may not materially change any of the elements of the tenders submitted. Any additional information provided by the LEP as a result of requests for clarification will be made available to all potential bidders.
Rebecca Luck - Programme Manager - Rebecca.luck@cheshireandwarrington.com; tenders@cheshireandwarrington.com
Submissions should be sent via email, stating in the email subject which tender the submission relates to. Completed submissions should be sent to the tender contact stated above only and must be submitted by the deadline for submissions. Submissions sent by other means may not be accepted at the discretion of CWLEP. Submission deadline is 17:00 on 30th November.
Invitation to Quote - Q&As
Q. You mention your ambition is to be the UK's healthiest, sustainable, inclusive and growing economy. Where are you now on the journey? What is the timeline? What do you see as the biggest barriers to achieving this?
A. The vision for the LEP is currently updating its evidence base, to be able to track progress against its vision, and is commissioning a piece of work to reflect that updated evidence into a new strategic economic plan. There is no set timeline for this vision. While not a barrier, a key focus of the LEP at the moment is to review our organisational structure and role across the sub-region, as the LEP's initial key investment activity related to the Local Growth Fund and Getting Building Fund schemes, both of which have now completed. Our plans for the future - Cheshire and Warrington
Q.The background states that the skills bootcamps provide a direct path to a job on completion. Is this a guaranteed placement as part of the scheme – or is it more about just having the right skills to apply for opportunities when they become available?
A. The DfE Skills Bootcamp programme is pitched to guarantee all learners (who complete the Bootcamp) the offer of an interview, and there are funding incentives tied into meeting that objective. Skills Bootcamps - Skills for Life
Q. In terms of employers you're looking to attract to participate in the scheme – is this focused on any specific sectors / business sizes, or very much open to all?
A. There are specific skills areas that are currently approved by DfE for Skills Bootcamps, and all sectors that could benefit from these skills areas are able to benefit, whether they are a small, medium or large business. Skills Bootcamps (education.gov.uk)
Q. Have you allocated an outline / indicative budget for completion of this programme of work?
A. No indicative budget has been outlined at this stage, as we will be evaluating value for money for all bids received; however, we are expecting the work to cost between £10-£20k.
Download the full tender document here:
ITQ Research & Communications Development/Delivery for Skills Bootcamp Programme
DATE ADDED: 11/10/2022 10:50:21 AM
Invitation to Tender -  Consultancy for Cheshire and Warrington Sustainable and Inclusive Economic Plan (S&IECONPLAN2022)
Return Date of ITT: 01 December 2022, 4.00pm
Overview
Cheshire & Warrington Local Enterprise Partnership (The LEP) is looking to appoint consultants to work with the LEP, local authorities and other subregional partners to refresh, consolidate and reframe our economic strategy to ensure it meets our new sustainable and inclusive growth vision, is effective, compelling, will maximise investment, and deliver our wider economic priorities for people, businesses and places.
The subregion has a significant local evidence base developed over several years and recently refreshed in 2022. It has built on our Strategic Economic Plan (SEP), Local Industrial Strategy (LIS), the LEP Recovery Plan (2021-22) and the Plans of our three local authorities. We have recently refreshed our evidence base in 2022 to take account of the recent changes to the external environment such as Covid, EU exit, Net Zero, Levelling Up and other government policies, and our new vision for healthy, sustainable and inclusive growth. The key drivers for refreshing the strategy are:
Our SEP and LIS were commissioned by Government but, in the case of the LIS, although the evidence base is available and in use, the strategy was not formally adopted due to government policy change. Our Recovery Plan has built on the LIS and was a short-term response to Covid. The SEP is now several years out of date.
The need to consider the response to the issues identified by the evidence through the lens of healthy, sustainable and inclusive growth, in line with the new subregional vision.
The need to understand and respond to what the Government's emerging economic development agenda means for the area.
The need to incorporate the key insights from the recently refreshed evidence base, to ensure we have the right priorities reflecting the current economic reality, tested with our key stakeholders/businesses.
To respond to the impact of wider changes such as EU exit and trade, supply chain shortages and newly emerging workforce trends as well as energy prices.
The need to properly consider how to respond to climate change and Net Zero, which will have an impact on the subregional economy.
The need to ensure there are priorities that will support place e.g. at the level of towns, within the overarching strategy.
The work will complement and work alongside other significant pieces of work. For example, it will:
Consider the Sustainable and Inclusive Growth Commission's recommendations, which could feed into a refreshed strategy.
Bring together where possible disparate and disjointed activity with neighbouring subregions and to consider pan-regional approaches (e.g. on Net Zero/COP26 legacy and on infrastructure planning).
Provide data, information and priorities to inform a wide range of work across the subregion/with local authorities, for example UK Shared Prosperity Fund (UKSPF).
Drawing on and feeding into work on levelling up and a possible county deal
Closing Date & Submission
The closing date and time for the receipt of submissions and all requested documentation relating to this stage is 16:00 hours (4pm) on 1st December 2022. Late submissions will not be accepted.
Submissions will only be accepted if they are returned via email to tenders@cheshireandwarrington.com Bidders should not send their completed submissions to/copy in any other email address.
Tenderers are advised that it is compulsory to complete and return all of the following documents in the format provided as per the instructions of this ITT. All questions must be answered, where a question does not apply please state "Not applicable".  Failure to complete the documents in full and/or provide all documentation will result in a non-compliant tender submission and will mean that your tender is not considered.
Form of Tender Declaration (Appendix 1)
Pricing Schedule (Appendix 2)
Supplier Technical Questions & Answer Sheet (Appendix 3)
Tender Queries
If you have any specific questions concerning this document or the process for submission of your proposal, then please email through to: tenders@cheshireandwarrington.com no later than 12 noon, 23rd November 2022. Only questions submitted to this email address will be answered. Queries received after this date will not be accepted and will not be responded to.
It would be most helpful if queries could be submitted in one email rather than piecemeal. If any question or request for clarification is considered to be of material significance, both the question and the response may be issued for review by all potential providers in a suitably anonymous form. All communication received from potential providers will be treated in strict confidence but are subject to this paragraph.
Proposed Schedule of Events
 The proposed schedule for the procurement process is as follows. However, the dates indicated, except for the return date should be regarded as indicative at this stage as The LEP reserves the right to extend and / or amend the timetable as necessary. Any major changes will be communicated to all potential tenderers.
| | |
| --- | --- |
| Activity | Date |
| Invitation to Tender (ITT) Live     | 15th November |
| Deadline for queries | 23rd November 12 noon |
| Tender submission deadline | 1st December 2022 4pm |
| Interviews (if required) | w/c 5th December |
| Bidders notified of contract award | w/c 5th December |
| Contract to start | w/c 5th December |
Download the full Tender Document below:
Invitation to Tender -  Consultancy for Cheshire and Warrington Sustainable and Inclusive Economic Plan (S&IECONPLAN2022)
C&W LEP S&I Econ Plan Tender November 2022 Final
DATE ADDED: 11/15/2022 4:18:52 PM
Tender Q&A's
Tender Queries
DATE ADDED: 11/25/2022 9:49:48 AM